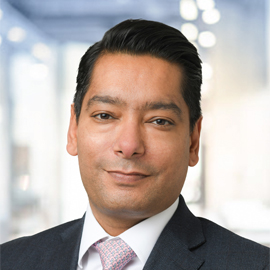 PROFESSIONAL PROFILE
Rustum is co-leader of the Enterprise Risk & Analytics practice in the SEBA Division of ZRG. Based in the firm's London office, he works closely with clients leading and executing assignments in Risk Management, Compliance, and Data & Analytics. He serves clients across financial services, technology, and other regulated industries.
Rustum joined SEBA in 2017 and previously, spent over 15 years covering Capital Markets, Investment Management, Risk Management, and Compliance at Euromoney and Informa. His deep understanding of financial services and extensive network within Compliance and Risk Management are key to his effectiveness.
Rustum is an active member of the Professional Risk Managers' International Association (PRMIA) and serves as Chair for the London Chapter. He also Chairs the ESG & Climate Risk working group.
He is passionate about supporting his local community and volunteers as a Scout leader for his local Scout Group as well as volunteering as a Colts Cricket Coach as part of the English Cricket Boards (ECB) efforts to develop talent at a young age and promote diversity. Rustum's hobbies and interests include cricket, golf, snowboarding, and surfing.
Practice Groups