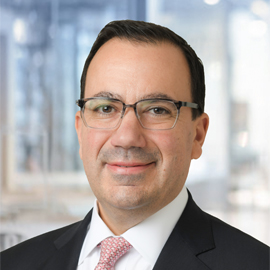 PROFESSIONAL PROFILE
Rob currently leads ZRG's Global Enterprise Risk & Analytics Practice. Rob was a co-founder of SEBA International where he built and led the firm's global Finance & Risk Practice. SEBA International was acquired by ZRG Partners in 2022.
Rob has over 20 years of experience in executive search helping clients recruit leaders in risk management, data analytics, finance & treasury, and regulatory compliance. Rob serves both private and public firms operating in regulated sectors, namely in financial services, financial technology, life sciences and private equity backed companies. He has successfully conducted and led over 400 search engagements across 25 countries.
Rob began his career in executive search at A-L Associates, Inc. in the firm's Accounting and Finance practice and later transferred into the firm's Strategy & Finance Practice where he focused on search engagements in strategy and corporate development. Prior to entering his career in executive search, Rob worked for Hogan Lovells, LLP based in Washington, D.C.
Rob's passion for creating meaningful connections extends to the communities where he lives and works. He currently serves as Chairman of the Board for A Chance in Life (ACIL), a global non-profit serving at-risk youth, a Member of the Board of Directors for Palm Beach Opera (PBO) and serves on the National Council for the American Enterprise Institute (AEI). Additionally, Rob serves as a Member of the Board of Directors for the Professional Risk Managers' International Association (PRMIA) and on the Advisory Council for the Smith Enterprise Risk Consortium (SERC) Robert H. Smith School of Business, University of Maryland.
Rob holds a Bachelor of Business Administration (B.B.A.) in International Business from Loyola University Maryland.
Practice Groups