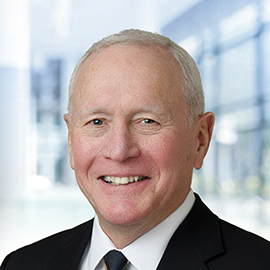 PROFESSIONAL PROFILE
Pete Metzger is a Senior Advisor and Managing Director with ZRG Partners. He is internationally recognized as a leader in the executive search and talent advisory sector, having served for over two decades in the industry. He previously served as the Vice Chairman of two of the largest search firms in the world.
Leadership is a distinguishing factor in Pete's career. He previously served as a US Marine Officer, leading Marines in combat and serving as the Commander of the Landing Force (Special Operations) of the US Sixth Fleet He was personally decorated for valor on three occasions. He further served as a foreign intelligence officer in the CIA and as the Marine Military Aide to the President of the United States.
Pete is well-known as a trusted advisor to business and government leaders and has provided leadership solutions across a wide range of industries including the pharmaceutical, industrial, and financial sectors, as well as not-for-profit/trade association organizations.
As a search professional, he has led some of the most complex and challenging, high-visibility executive searches for Board directors, C-Level leaders, not-for-profit/trade association CEOs, government affairs/lobbying, and cyber and security leadership for both established and emerging businesses around the world. He has successfully led searches in the US, Latin America, Asia, Europe, and the Middle East.
He maintains close personal ties with the most senior leaders in both business and government as well as the nation's premier law enforcement and intelligence services. He is the only professional search consultant in the country with a current/active US Government Top Secret Clearance.
He is an outside director on the boards of NTT Data Federal Systems, Klas Telecomm Government, ClearForce, and Asero Worldwide.
Education
Pete received his BA in International Relations from the University of Colorado. He also completed studies at US Department of State Foreign Service Institute in Latin American Studies/Spanish and The Inter-American Defense College in Latin American Political-Military relations/Economics.
Practice Groups