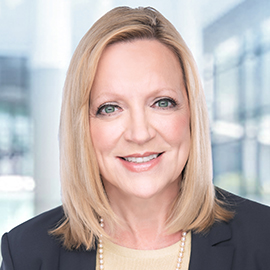 Professional Profile
Mary Kier serves as Managing Partner of ZRG Partners, based in Chicago, and is the leader of the Family Business Practice and Co-Leader of the Consumer Practice. She also serves as a senior member of the Private Equity Practice group. She is passionate about securing the best possible talent for any search, but as a significant participant of the Diversity Practice at ZRG, Mary is resolved to help clients build best-in-class diverse organizations. All companies can reach greater intellectual capital when their leadership teams and organizations are populated with professionals from a broad spectrum of cultures and backgrounds.
Throughout her career in executive search, Mary has built widespread respect for her comprehensive understanding of the strategies, operations, and management of family businesses and for her grasp of the cultural nuances of companies and executive leadership teams. She has been the catalyst to changing companies from being family-run to family-owned via succession strategies with the first non-family leadership. She embraces the character, soul, and passion of these companies and helps families realize that the family identity will not be lost by hiring a new person to shepherd the company; instead, by choosing properly, the new leader will feel like a well-chosen new family member. Mary has a deep respect for the stories and history behind multi-generational family run organizations.
Understanding the DNA of private equity is key to Mary's expertise in placing executives in private equity portfolio firms, with many having been family businesses prior. By identifying the underlying business needs of the company, she has counseled new leaders in the sense of duty to the family legacy, of keeping a sense of the history alive, coupled with a critical view to the future.
Additionally, Mary advises Private and Family Boards and leadership teams on selecting Board executives that are impactful and add enterprise value as companies grow and expand.
Previous Experience
Mary began her career in executive search with Cook Associates, where she was CEO after holding positions as Managing Partner, practice leader of the Consumer & Industrial Markets and Private Equity practices, and a key member of the Board Advisory practice. Mary also served as the firm's Diversity & Inclusion practice leader.
Areas of Expertise
Her searches include CEOs, COOs, CFOs, CMOs, and Divisional Presidents as well as functional heads of Sales, Marketing, Finance, and Operations.
Education
Mary received her BS degree in Management & Industrial Relations from Minnesota State University. She is a member of several executive search industry organizations and is frequently called upon as a speaker and executive search expert.
Practice Groups