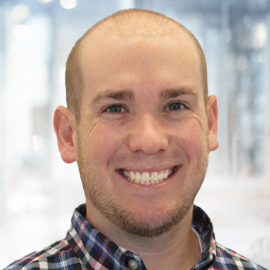 PROFESSIONAL PROFILE
Kyle Brown joined Turnkey in 2015 and oversees the largest segment of Turnkey's practice: revenue-driving roles, primarily within the consumer/ticketing and corporate/sponsorship disciplines. In the last year alone, Kyle has led the successful placements for the VP of Ticketing for the Chicago Bulls, the VP of Ticketing for the Washington Wizards, the VP of Corporate Partnerships for the Seattle Mariners, and the Chief Commercial Officer and multiple sales roles with Chip Ganassi Racing. As consumer behavior and corporate spending in the sports and entertainment industry evolves, Kyle is at the forefront in the identification of talent fully embracing innovation and the future of the industry and guides clients in their own evolution of the business.
As Turnkey's longest-tenured recruiter, Kyle has worked on over 100 searches and has been promoted twice at the organization. As Vice President and Recruiter, Kyle is responsible for running the entirety of a search process including pitching clients, building potential candidate lists, evaluating talent, aiding in the client interview process, and offer negotiations. While ensuring the best talent is secured for all searches, he has committed to building diverse candidate pools, leading to a high level of diverse candidate placements: he has more than doubled the inclusion of candidates from underrepresented groups in the searches he has led, far exceeding the current industry representation in revenue-based roles.
Previous Experience
Kyle began his career in the sports industry with several minor league affiliates for various Major League Baseball clubs in Florida before beginning his recruiting career in the IT sector.
Education
Originally from Tampa, FL, Kyle graduated from Florida Gulf Coast University with his Bachelor's in Business Administration and currently lives in Philadelphia with his fiancé Maureen.
Hobbies and Interests
In addition to being a passionate sports fan, Kyle enjoys golfing, working out, traveling, and playing with their two-year-old lab, Lola.
Areas of Expertise