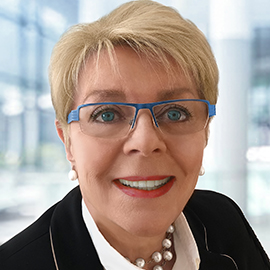 Professional Profile
Helga Long joined ZRG Partners in 2017 as Chief Client Officer in the firm's global Life Sciences practice. Helga's highly acclaimed philosophy for success in executive search includes the vital premise that each search project is unique, requiring new strategic thought, planning, and execution.
Previous Experience
Prior to ZRG, Helga was the Chair and CEO of a global boutique executive search firm, specializing in the life sciences sector. Previously, and for over a decade, Helga was the Vice Chairman of the Life Sciences practice of a leading, global executive search firm.
Having focused much of her career in life sciences, Helga has contributed to the successful appointments of senior management within large conglomerates, mid-size companies, emerging firms, private equity-backed companies, and startups.
Helga was one of the original pioneers in successfully navigating global searches requiring multi-national, cross-cultural focus and expertise. This has allowed her to build an extraordinary network of senior executive relationships with clients and their teams, and she has provided consulting services for organization development and succession planning strategies.
After spending the first 10 years of her career in consumer products marketing, Helga created her own executive search consultancy. The firm grew, providing services to numerous industries. However, in 2000, Helga directed her business exclusively to the life sciences sector and founded H.M. Long Global Partners Ltd.
She was selected as one of "North America's Top 250 Executive Recruiters" by John Sibbald. Helga is a founder and active Board member of the International Center for Missing and Exploited Children and is a past board member of the NY City Chapter of the American Heart Association.
Education
She was educated at El Camino College and UCLA.