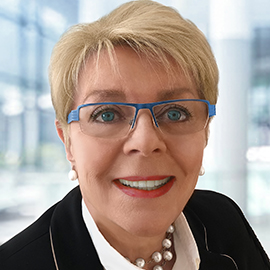 Professional Profile
Helga Long is Chief Client Officer, Global Life Sciences, at ZRG Partners. Passionate about life sciences, she feels privileged to be part of the largest life sciences search practice in the world. Helga drives business solutions by partnering with clients to build successful C-suite teams. She meticulously establishes the search goals and process and then harnesses her fierce drive to deliver results. Helga's blend of deep sector knowledge, seamless partnership, and an open flow of communication delivers a nearly 100% search completion rate, along with a 90% five-year retention rate, globally. This unique formula defines dependable leadership.
Helga provides unmatched global reach as she connects with an unparalleled network of senior executive relationships. With 35 years of executive search experience, Helga stands among the groundbreakers in successfully navigating global searches requiring multinational, cross-cultural focus and expertise. Leveraging her business acumen and seasoned expertise, she also provides invaluable consulting services for organizational development and succession planning strategies.
Previous Experience
Prior to ZRG, Helga was the Chair and CEO of a global boutique executive search firm specializing in life sciences. In addition, she was a Vice-Chairman of a leading global executive search firm for more than a decade. Helga began her career in the consumer products industry before pivoting to executive search. She founded her own executive search consultancy serving numerous industries, and she contributed to the successful appointments of senior leadership across a variety of industry sectors.
Education
Helga received her education at UCLA and El Camino College.
Volunteer/ Interests
Helga is a founder and active Board Member of the International Centre for Missing and Exploited Children. In addition, she is a past Board Member of the New York City Chapter of the American Heart Association.
Practice Groups