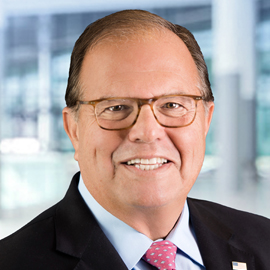 Ed Horowitz
Executive in Residence
PROFESSIONAL PROFILE
Ed Horowitz is a pioneering business executive and veteran of the media, telecommunications and financial services industries. As an advisor to the Sucherman team and our clients, Ed provides invaluable insight drawn from his decades of experience founding, leading and overseeing innovative start-ups, multinational media conglomerates, nonprofits and governmental organizations.
Ed is Chairman of EdsLink LLC, a New York City-based venture firm focused on financial services, technology, media and telecommunications. He launched his career as a "cable guy" at TelePrompTer, and has since held senior management and executive roles at Time Warner (now WarnerMedia), Viacom (now ViacomCBS), Citigroup and SES Americom.
Throughout his career, Ed has executed successful business strategies that leverage technology to open markets, establish global technical standards, and bring compelling content to people around the world.
Ed has served on the boards of several global companies. In August 2015, Ed was appointed by the U.S. Secretary of Commerce to the Board of the First Responder Network Authority (FirstNet.gov) and currently serves as Chairman of the Board. He also is on the Board of Directors of Qumu (Nasdaq) (provider of enterprise live and on demand video), and a Board Commissioner to LinkNet Tbk PT (LINK:IJ) (largest fixed broadband and cable TV operator in Indonesia).
Ed is a Trustee of the New York Hall of Science and the American Management Association. He has been inducted into the Society of Satellite Professional Internationals Hall of Fame; and awarded many prestigious industry awards for innovation and technology.
Ed earned his Masters in Business at Columbia and a B.S. in Physics at City College of New York.
Practice Groups