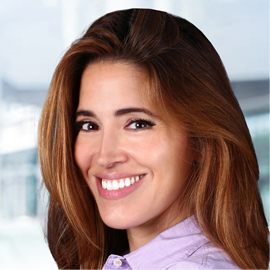 Christina Sampaio-Forman
VP
Executive Search
PROFESSIONAL PROFILE
Christina Sampaio-Forman is a media and entertainment industry veteran with over two decades of experience in content development, production, talent recruitment and business management. With deep relationships across the industry, including with network executives, producers, agents and talent, Christina leads high-profile executive searches for leading media, entertainment and digital brands.
During her tenure at Sucherman, she has played a core role in more than 60 successful placements across television and film development, production, business affairs and marketing. Relentless in her pursuit of making the right match, Christina is responsible for recruiting executives who then ascend in the organization, including network entertainment heads and C-suite executives.
Prior to joining Sucherman's Los Angeles office in 2013, Christina co-founded Eight Minds LLC, an independent think tank helping create and develop innovative television production concepts. As vice president of the G Group, she developed and co-produced programs including Spike's "King of Vegas," Oxygen's "Tease," Fox's "Anchorwoman," and BET's "Sunday Best" – which ran for nine seasons. Always committed to fostering emerging talent, she also oversaw search and screening for G Group's think tank, a development forum for young producers.
Earlier in her career, Christina associate produced the Emmy-winning Comedy Central game show "Win Ben Stein's Money" and was the script supervisor for the Emmy-winning improvised HBO comedy "Curb Your Enthusiasm."
In roles as director of development at TVA International and creative executive at The Samuel Goldwyn Company, Christina developed theatrically released films, television movies, and miniseries, including soliciting and evaluating material; negotiating rights; optioning scripts, books and plays; and identifying and nurturing promising talent.
Christina earned a Bachelor of Arts degree in Theatre at the University of California, Los Angeles.
Practice Groups