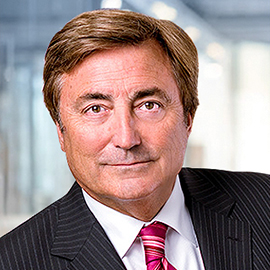 Professional Profile
Charles H. King leads ZRG Partners' Global Board Practice, where he is responsible for board of director assignments and corporate governance consulting, as well as CEO recruiting. He is particularly well known for his ability to identify and recruit diversity candidates for board service.
Previous Experience
Prior to ZRG, he served as Vice Chairman of the CEO & Board Services Practice at CTPartners, and earlier as Managing Director of the Board Practice at Korn/Ferry International. He has recruited over 600 directors for many of the top companies in the world in industries that include manufacturing, oil and gas, retail, consumer packaged goods, technology, financial services, and more. He has also built numerous boards from scratch for IPOs, spinoffs, and other situations. For ten years, prior to entering the search profession, he was the Managing Director of Donaldson Enterprises, a New York-based private equity firm.
Areas of Expertise
A frequent speaker on the governance circuit, he has addressed audiences in the U.S., Europe, the Middle East, and Latin America. As a recognized expert in the field of corporate governance, he has led director training programs throughout the U.S., and his remarks have appeared in all of the major business media. Charles has been named to the Directorship 100 list of the Most Influential Individuals in Corporate Governance.
He served as an officer in the U.S. Coast Guard, holding a variety of highly visible command and staff assignments, including duty as military aide to Vice President George H. W. Bush. He is an active member of the U.S. Coast Guard Foundation, the National Eagle Scout Association, and the University Club of New York.
Education
Charles earned a Bachelor of Science degree from the U.S. Coast Guard Academy and an MBA from The Yale School of Management.
Practice Groups