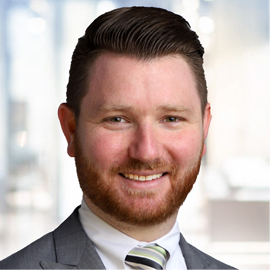 PROFESSIONAL PROFILE
Brett Magid is a Managing Director for the Interim Solutions practice at ZRG. In this role, Brett works with each client to develop a customized, flexible solution that addresses their barriers to accelerate business growth, create effective management, transform technology, improve performance results, and more.
Brett has expansive experience in project management and has assisted clients with team build outs & strategic endeavors. Brett has placed numerous Interim CFOs, CHROs, controllers, and consultants who serve the C-suite.
By working hard and building strong personal and professional relationships, Brett has continued to develop his knowledge and career. He is always looking to help others by acting as a resource to their business through customizable accounting, finance, supply chain & human resource solutions.
Previous Experience
Prior to joining ZRG, Brett was a Director of Client Services at Vaco. As the practice lead in Philadelphia, he developed strategic plans for his clients and provided end-to-end consulting solutions and customized accounting and finance resources.
Earlier, Brett worked as a senior tax professional at RSM in funding, financial services, and corporate accounting groups. After leaving RSM, Brett went on to be the manager of Taxation at Atlas Energy Group, where he helped lead the implementation of a new ERP platform in addition to preparing and reviewing budgeted and forecasted financials.
Areas of Expertise
Brett's areas of expertise include Account Management, new Business Development, Project Consulting, and market expansion within Technology, Professional Services, Private Equity, Manufacturing & Consumer Products.
Education
Brett graduated from Penn State University with a bachelor's degree in Accounting with a focus in Finance.
Hobbies and Interests
In his free time, Brett enjoys exercising, spending time with his family, and watching or attending Philadelphia sporting events.
Practice Groups