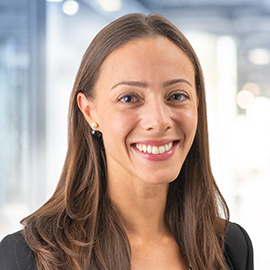 PROFESSIONAL PROFILE
Anna Maria da Costa joined ZRG Partners Brasil in 2016 as an Associate and was co-responsible for the company's startup in Brazil. Anna Maria brings a seven-year track record of success in executive search to the team. Her background encompasses the successful placement of a wide range of top management positions including CEOs, Vice Presidents and C-level Executives in general within the, Life Sciences, Financial Services, Insurance, Industrial, Infrastructure, Consumer Goods, Education and Telecommunications industry segments. She is currently responsible for developing and managing the middle management tier for ZRG Partners in Rio de Janeiro, Brazil.
Previous Experience
Prior to joining ZRG, Anna Maria was a Researcher at a renowned Brazilian Executive Search firm where she completed numerous senior-level search assignments for leading organizations. Before joining the search industry, she worked at the United Nations Secretariat based in New York City as an Assistant Recruitment Officer in the Executive Office of the Department of Peacekeeping Operations (DPKO) responsible for overseeing strategic human resources related activities for five Divisions totaling 200 staff members. Anna Maria began her career as an International Relations/Research Assistant at the Fundação Getúlio Vargas' Business School, EBAPE in Rio de Janeiro, Brazil.
Education
Anna Maria holds a Bachelor of Arts degree in Psychology with a concentration in Business Administration and a minor in French from the University of New Hampshire. She also holds a Post-graduate degree in Marketing from COPPEAD/Universidade Federal do Rio de Janeiro and a Post-graduate degree in Translation (English-Portuguese) from Pontifícia Univeridade Católica do Rio de Janeiro. She speaks native English and Portuguese and has a good command of Spanish and French.
Practice Groups