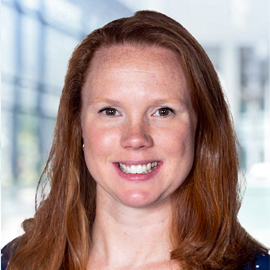 PROFESSIONAL PROFILE
Allie Crone joined Turnkey Search in 2018 and has been promoted twice, currently serving as Vice President, leading the firm's Marketing, Communications, Analytics, Community, and Game Presentation practice.
While at Turnkey, Allie has led dozens of executive-level searches including Chief Marketing Officer of the San Francisco 49ers, Chief Marketing Officer of the Carolina Panthers, and Senior Vice President of Live Entertainment & Game Presentation for the Seattle Kraken.
As Vice President and Recruiter, Allie is responsible for running the entirety of a search process including pitching clients, building potential candidate lists, evaluating talent, aiding in the client interview process, and the negotiation of offers. While ensuring the best talent is secured for all searches, she is committed to building diverse candidate pools leading to a high level of diverse candidates placed. Allie is known inside Turnkey as the most precise, buttoned-up interviewer at the firm. Her discipline in scripting interviews and documenting and scoring prospective candidates is unmatched.
Previous Experience
Prior to joining Turnkey, Allie worked in College Athletics at Rutgers University where she was the Coordinator of Personnel Services & Business Operations.
Previously, Allie served as the Manager of Athletics Operations at Oregon State University and the Director of Women's Basketball Operations at the University of Delaware.
Education
Allie earned her M.B.A. at Oregon State University and her B.S. from Cornell University. At Cornell, she was a four-year starter on the women's basketball team, helped lead the program to its only Ivy League Championship and NCAA Tournament appearance, and served as captain her senior year.
Hobbies and Interests
Allie currently resides in Glenside, PA with her husband, Greg, and their two daughters, Felicity (3) and Grace (1).
Practice Groups