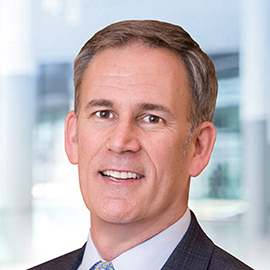 Professional Profile
With more than 20 years of global, retained senior executive search experience, Dave is passionate about recruiting inspiring and impactful leaders for global life science and healthcare companies to improve patients' lives through disruptive and innovative science and technology.
Dave's clients include pre-revenue VC-backed start-ups to PE-owned growth-stage investments to multi-billion-dollar industry leaders. Each is unique and trust Dave to attract C-suite executives and functional leadership that fit well culturally and produce results. Both clients and executive candidates appreciate his integrity, candor, and counsel toward successful outcomes with immediate and long-term benefit for all parties.
Previous Experience
Prior to entering executive search, Dave began his career as a CPA in the Chicago office of Coopers & Lybrand (later Price Waterhouse Coopers) serving global clients. He later joined a $2 Billion conglomerate where he progressed through a series of finance, operations, and commercial leadership roles, gaining experience on multiple assignments in the U.S., Asia, South America and Europe.
Areas of Expertise
Cell & gene therapy, immunotherapies, vaccines, and other next generation science along with extensive cross-industry collaboration across medtech, healthcare, industrial, and private equity.
Community Service
Treasurer & Board Member, Baltimore-Washington Medical Center Foundation
Education
B.S. Accountancy, University of Illinois
Areas of Expertise