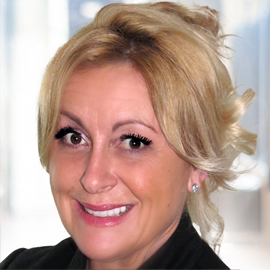 PROFESSIONAL PROFILE
Sophie De Ferranti joined ZRG in 2021 as Managing Director, Cyber and member of the Financial Services Practice. She has served as a keynote speaker on the topic of the War for Cyber Talent at events in Singapore, Zurich, London, Hong Kong, and Jakarta and participated in live TV Interviews with the London Stock Exchange on regional compensation trends impacting senior executives within the Global Financial Services industry.
Previous Experience
Prior to joining ZRG, Sophie was the CEO and Founder of Cyber-i Search Solutions Ltd. In addition, she has served as a Partner for Digital Times Transformation Asia and was CEO/Founder of boutique executive search firm ValensGoldberg Ltd. & GmbH – London, Zurich, New York, Singapore, and Buenos Aires. For two decades Sophie has serviced the Financial Services industry by sourcing high calibre international talent for the roles of CIO, COO, CDO, CRO and the increasingly more critical CISO function. In her earlier career she held a high security classified role at the NATO Headquarters in Brussels, Belgium during the Balkans Conflict and previously oversaw Investor Relations for the UK governments leading biotechnology advisory firm, Merlin Biosciences.
Areas of Expertise
Sophie has an appetite and passion for organizational growth and developing a competitive edge. She has created a global footprint and highly entrepreneurial approach to executive search and human capital consulting. Her areas of expertise include Global Wealth Management, Cyber Security and Digital Risk, and Human Capital Management within the Financial Services/Fintech industries.
Education
Sophie is a graduate of the University of Southampton (BSc in Oceanography and Geography) and holds a DipPT in Optimum Sports Nutrition. She is conversant in English, Spanish and German.
Hobbies and Interests
Sophie enjoys extreme sports and is a Zero Goal female polo player (Founder of La Utopia Polo Team in Buenos Aires, Argentina), advanced mono/slalom skier, sailing enthusiast and marathon runner. An advocate for environmental conservation and climate change, Sophie is passionate about animal welfare, philanthropy and promoting Women in Business. She practices Buddhism and enjoys international travel.