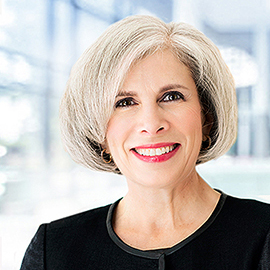 Professional Profile
Smooch Repovich Reynolds joined ZRG Partners at the end of 2017, bringing with her a career that spans more than 25 years of executive search consulting, specifically focused in the Global Investor Relations Officer and Chief Communications Officer functional areas. Smooch pioneered IR executive search as a direct result of her affinity for the capital markets and has partnered with CEOs and CFOs to address corporate valuation issues and financial market expectations throughout her career. As the profession and financial markets have evolved dramatically in the last two decades, she has served as a key influencer of the direction of the Investor Relations profession through her stewardship with client management teams.
In addition, her thought leadership in the Corporate Communications functional niche has been framed by her tenure as a former Chief Communications Officer and her broad participation in the global communications community. Smooch has leveraged this firsthand experience to partner with leadership teams, providing guidance by framing corporate communications functions and serving as a gateway to exceptional talent whose corporate brand innovation experience has elevated her client companies to new heights of success.
She is considered a leading authority on the intangible leadership traits that define talent who are recognized as part of the top 10% of Investor Relations and Chief Communications Officers globally. Her executive search experience has spanned partnerships with management teams and Boards at organizations ranging in size from pre-IPO entities to global, multinational Fortune 500 market leaders across all industry sectors.
Having completed approximately 300 Investor Relations Officer searches, one consideration to note about Smooch's work is the increase in her clients' share valuation during her tenure as a recruitment management team advisor – nearly $500B in increased valuation that she has contributed to as a direct result of her commitment to clients on the topic of recruiting the right talent.
Smooch has authored numerous thought leadership articles about the CEO-CFO-IRO triumvirate and the impact of their interlocked relationship as it relates to the investment community and valuation. She has been the featured expert on IRO and CCO careers across traditional media and social/digital media and is called upon by numerous professional groups to speak on wide ranging talent and leadership topics. Smooch has her own website, www.smoochunplugged.com, where she regularly shares her insights about corporate talent initiatives and the competitive advantages of smart, strategic recruitment partnerships. Smooch is also a book author.
Watch the first of the IR Magazine video series with Smooch – Women in IR here.
Previous Experience
Prior to joining ZRG Partners, Smooch served at two multinational executive search firms as the Managing Director of each firm's respective Global Investor Relations and Communications Officer practice groups. In addition, she served as the Chief Communications Officer for The Irvine Company, a recognized national privately held real estate development company. Prior to that, she was the Founder and CEO of The Repovich-Reynolds Group, a North America-focused executive search firm specializing in IRO and CCO search assignments, which she led for nearly 20 years. Smooch has served as a Chief of Staff to the CEO of a global public relations agency and started her career in politics as a Press Deputy.
She is a longtime member of the National Investor Relations Institute and a lifetime member of the International Association of Business Communicators. Smooch has served on several nonprofit boards, including serving as Board Chair for American Cancer Society of Los Angeles and Westridge School in Pasadena, California.
Areas of Expertise
Investor Relations Officer and Chief Communications Officer assignments across all industries
Financial Officer suite: CFO and the direct reports into this role
Corporate Governance and Board of Director consulting
Education
Smooch has a BS in Broadcast Journalism from the University of Southern California.