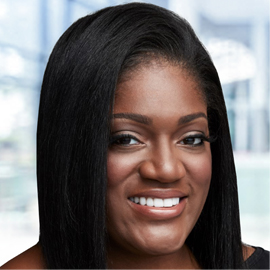 PROFESSIONAL PROFILE
Nzinga "Zing" Shaw joined ZRG in 2021 and is the Global Pactoice Group Leader and Managing Director of the DEI/ESG Practice and the Chief Inclusion & Diversity Officer for ZRG.
Zing is an experienced C-suite executive with extensive hands-on experience and knowledge spanning change and crisis management, human capital management, employee relations, talent acquisition, organizational and strategic planning, branding, community engagement, and Diversity, Equity & Inclusion (DE&I). She is known for her pioneering DE&I work with the NBA's Atlanta Hawks, launching the MOSAIC symposium (Model of Shaping Atlanta through Inclusive Conversations) and making the Hawks the first professional sports team to celebrate the LGTBQ community.
Previous Experience
Notably, Zing was the first Chief Inclusion & Diversity Officer at four blue chip organizations: Edelman, Starbucks, Marsh McLennan, and the NBA. She has been recognized with numerous "40 Under 40" awards from the likes of Sports Business Journal, Atlanta Business Chronicle, The Network Journal, and PR Week. In addition to serving on the Board of Trustees of Fisk University, the Board of Directors of ColorComm, and the Board of Advisors of Arctos Sports Partners, she was appointed by President Jimmy Carter to serve a six-year term on the Board of Councilors of The Carter Center.
Education
Zing received her MLA from the University of Pennsylvania and her BA from Spelman College. She was a study abroad scholar at Oxford.
Hobbies and Interests
In her free time, Zing enjoys interior design, international travel, cooking and spending time with her husband Keith and three children, Lacy, Hudson and Trey.