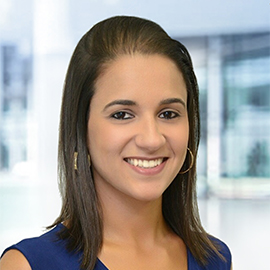 PROFESSIONAL PROFILE
Marília Tufani joined ZRG Partners Brasil in 2016 and was co-responsible for the company's startup in Brazil. Marília has over 7 years' experience in executive search and her background encompasses the successful placement of a wide range of top management positions within the Consumer Goods, Retail, Life Sciences, Financial Services, Education and Services segments. She is currently responsible for leading middle management positions in São Paulo, Brazil.
Previous Experience
Prior to joining ZRG, Marília was Researcher at two Brazilian Executive Search firm where she completed several senior-level search assignments for local and multinational organizations.
Education
Marília holds a Bachelor of Business Administration from Fundação Getulio Vargas and a Post Graduate degree in Marketing from FIA. She is a native speaker of Portuguese, fluent in English and has a good command of Spanish.